Sharp Zaurus SL-C700 Review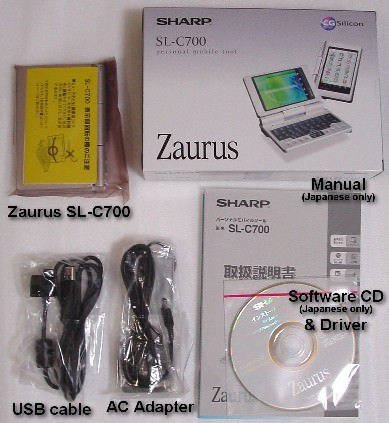 First Impressions: Unpacking the shipment from Dynamism.com &nbsp I was struck by how small the box was - see at right with its contents. The SL-C700 is a very small - 4.7" x 3.3" x 0.7" and 7.9 ounces - or 120mm x 83mm x 18.6mm and 225 grams - clamshell style machine. It has excellent fit and finish and is very solid in construction. The following links contain many SL-C700 pics - &nbspwith a Nokia 9290, &nbsp with a HP200lx, &nbsp and the SL-C700 folding. Opening it up the screen is a beautiful and very crisp 3" x 2" VGA LCD with 65,536 colors and backlight. The screen folds back and lays flat against the keyboard, converting the SL-C700 to tablet-style. When closed you can easily put the SL-C700 in your pocket - it is not too heavy, and due to the clamshell build and solid construction you don't need to worry about carrying it in a case. For more pictures of the SL-C700 folding see a folding animation here. Also, from this page &nbsp you can link to a picture of the SL-C700 with a Psion Revo, as well as to a gif animation of the SL-C700 folding (both in section 2 - Size & Weight).

Hardware:

Screen: The SL-C700 screen is very nice - a stunning 3.7" diagonal VGA touchscreen LCD at 640 x 480 = 307,200 pixels, that is backlit and has 65,536 colors. The screen uses a new Continuous Grain Silicon technology. The backlight has 5 levels, and I normally kept it at the next to lowest level to conserve battery power. As with most touhscreens, it is not that easy to read the screen outdoors - you have to crank up the backlight, and in a lot of sun it is difficult to see the screen due to the reflection. This is one area where the "old" HP200lx shines (no pun intended...). In PDAs screen real-estate is vital, and the SL-C700 screen area comes in at approximately 75% of the area you get with the HP200lx. However this is better than the Nokia 9290 Communicator, which comes in at 66% of the screen real-estate of the 200lx (actually 53% if you consider that the default on most Nokia apps is to not use the entire screen for display - as opposed to commands). The SL-C700 font is fairly tiny, but remarkably legible due to the crispness of the screen. In addition you can zoom in and out on most applications to accommodate your needs. Go here for screenshots comparing web browsing on the Nokia 9290 Communicator and the Zaurus SL-C700.
Keyboard: The SL-C700 has a 7.5mm pitch QWERTY keyboard. The keys are 'flatter' than the HP200lx, but crisper than the 'mushy' Nokia 9290 keyboard. You can type in text very easily using the 'two thumb' method of typing on the go - the keyboard has a nice tactile feel and you can very easily tell what you are entering. I immediately turned off the annoying sounds for key clicks and screen taps, but these could be left on if desired. When folded over tablet-style the keyboard is covered up and you use the stylus for entry, using handwriting recognition or an on-screen keyboard. The handwriting recognition seems tolerably good, but I prefer keyboard entry and so have not used HWR much. Go here for a close-up view of the keyboard. &nbsp The SL-C700 keyboard is fairly complete, the only adjustment I've had to make is having to sometimes use the OK key instead of the Enter key. In the picture you can see the 5 dedicated app keys, which are configurable to launch the programs that you choose.
Memory & Expansion: The SL-C700 comes with 32MB of SDRAM and 64MB of flash memory, of which only approximately 30MB can be used for storage (the rest being used by the OS and core applications.) The SL-C700 also has a slot that will take a Secure Digital (SD) or MultiMediaCard (MMC), and another that will take a Type II Compact Flash (CF) card. So you can (currently) max out at 1 Gig for the CF card + 512 Mb for the SD card. You can not use a SDIO card on the SL-C700 as the specs are proprietary and there are no Linux drivers. While talking about memory and expansion you do need to note that there are many software packages that insist on being installed in Internal Flash and don't want to install on the CF or SD cards... In fact when installing programs, if you choose SD or CF over Internal Flash you always get a warning. If you acknowledge the warning and continue with CF or SD, on the completion of the install you will get a message if it was successful. If unsuccessful, you then need to install to Internal Flash. There are ways to get around this (use of sym-links, etc.) and there are software packages (e.g. KTrove) to 'fool' the programs into running from CF or SD.
Power Supply: The AC adapter that comes with the SL-C700 is really tiny. The SL-C700 has a (EA-BL06) 3.7V 950mAh rechargeable lithium-ion battery. This is a major weakness of the SL-C700, as this battery lasts only about four hours with "normal" use. If you play MP3s or run a WiFi card, then this decreases battery life further. Strategies people have employed to increase autonomy include 'shaving' and using the EA-BL08 battery from the Sharp Zaurus 5600. This is a 3.7V 1700mAh battery, so should last much longer. However this battery is much thicker, so the SL-C700 battery door can not be on. Since Sharp sells a charger separately, a second strategy might be to carry a second battery and swap them out as necessary. Other strategies include using various external power sources - for example a battery pack from Diatec , or the DPS-9000 from Digipower, or battery packs from Semsons
Misc: Go here to see pictures of the SL-C700 from all sides. In addition to this info, the SL-C700 also has a 3.5mm diameter stereo headphone jack. When you are using the SL-C700 'tablet-style' it is very helpful that you have the jog wheel for navigation, as well as the OK/Cancel rocker switch. Though I'm right-handed it seems well enough laid out that it would work well for a leftie.
Accessories: For information on some SL-C700 accessories go here. &nbsp (Updated 06/10/03)

Software:

I/O & Connectivity: Since the SL-C700 is only sold in Japan, the manual and CD-ROM that came with it are entirely in Japanese. I haven't yet spent the time to get this installed to establish connectivity to the desktop. The CD-ROM does contain Intellisync on it... Judging from the bulletin board discussions connectivity to the desktop is OK, but synching with Outlook is very problematic, and has been successfully achieved by only a few... (more info later as I give this a try..) Various folks report having had success connecting via WiFi, and some via Bluetooth.. For a quick overview of the SL-C700 and WiFi go here.

Overall Impressions- Pro/Con: Overall a very nice machine with great fit and finish. Very nice size/weight, with a great keyboard and an outstanding screen. Good memory and expansion with CF and SD. Can be used right out of the box with ease. Negatives are the battery life (especially compared to the HP200lx that would go also a month on two lithium AA batteries), and the fact that Outlook sync is not easy (though presumably folks buying this expressly because it has Linux would not care much about this point!). The other thing I don't like is the fact that on some applications the speed is not what I would expect given the processor. Some programs (e.g. the built-in MediaPlayer, or Portabase..) appear to search internal flash, SD, and CF, for all appropriate files for the application, and as a result are fairly slow on launch. For example when I launch Portabase (or turn the SL-C700 back on if Portabase is already running) it takes almost 20 seconds (which seems like an eternity!) before I can do anything - since it has to search a 256 MB SD and a 1 Gig CF... Other programs (e.g. HancomSheet) do not do this and launch immediately, and then you open the files you want to work with. The speed here is acceptable, though faster would be better (naturally!). The bottom line: I would heartily recommend the SL-C700 ...
My main screens &nbsp - &nbsp SL-C700 tips &nbsp - &nbsp SL-C700 & WiFi





Other SL-C700 Reviews:


SL-C700 Review by Juan Ordonez &nbsp (comparing to the Psion Revo.)


SL-C700 review at The Gadgeteer

© SNi 09/08/03